1Institute of Geriatrics (Shanghai University), Affiliated Nantong Hospital of Shanghai University (The Sixth People's Hospital of Nantong), School of Medicine, Shanghai University, Nantong 226011, Jiangsu, China.
2Cardiac Regeneration and Aging Lab, Institute of Cardiovascular Sciences, Shanghai Engineering Research Center of Organ Repair, School of Life Science, Shanghai University, Shanghai 200444, China.
3Cardiovascular Division of the Massachusetts General Hospital and Harvard Medical School, Boston, MA 02114, USA.
4Institute of Biochemistry and Cellular Biology, National Research Council of Italy, Napoli 80131, Italy.
Correspondence to: Dr. Junjie Xiao, Cardiac Regeneration and Aging lab, Institute of Cardiovascular Sciences, Shanghai Engineering Research Center of Organ Repair, School of Life Science, Shanghai University, 333 Nan Chen Road, Shanghai 200444, China. E-mail: junjiexiao@shu.edu.cn
Abstract
Cardiac aging is accompanied by progressive loss of cellular function, leading to impaired heart function and heart failure. There is an urgent need for efficient strategies to combat this age-related cardiac dysfunction. A growing number of events suggest that age-related cardiac diseases are tightly related to metabolic imbalance. This review summarizes recent findings concerning metabolic changes during cardiac aging and highlights the therapeutic approaches that target metabolic pathways in cardiac aging.
Keywords
Cardiac aging, metabolic imbalance, mitochondria dysfunction, anti-aging therapy
INTRODUCTION
Due to medical progress and lifestyle changes, life expectancy has been significantly prolonged worldwide. However, multiple diseases, such as cardiovascular diseases (CVD) and metabolic disorders, tend to occur at older ages. For example, the incidence of CVDs, including hypertension, coronary heart disease (CHD), and heart failure (HF), is two-fold higher in the population over 80 years old compared with those who are 40 years of age[1]. The incidence of myocardial infarction (MI) increases sevenfold in the elderly population aged 70 years compared to those aged 40 years[2]. Aging is well recognized as one of the critical risk factors for heart disease. Nearly two-thirds of those suffering from cardiovascular disease are elderly patients[3]. As the aging population worldwide is growing at a remarkable rate, anti-aging strategies to improve cardiovascular health and lifespan are imminently required. Therefore, understanding the mechanisms of cardiac aging is vital for the therapeutic development of CVDs in the elderly population.
In the aging process, the heart function degenerates gradually and may eventually lead to HF. Significant structural alteration of the left ventricle and an increase in fibrosis is observed in aged hearts. Moreover, diastolic dysfunction and systolic dysfunction are prevalent in aged hearts. Another consequence is the decline of the cardiac reserves in aged hearts, which contributes to HF with preserved ejection fraction (HFpEF), the most common type of HF in the aged population[4,5]. Although the cardiac physical changes of aging are well characterized, the intrinsic features and pathways driving the age-associated decline of heart function are not fully understood. Intrinsic features, such as mitochondrial dysfunction, inflammation, and reactive oxygen species (ROS), were considered significant drivers of cardiac aging [Figure 1]. In the aging process, there is a metabolic decline and disruption of nutrient uptake by body tissues. Almost all the hallmarks of aging are affected by cellular metabolic disorders. Mitochondrial metabolism and metabolic pathways were proved to play important roles in cardiac aging. The aged heart exhibits impaired metabolic flexibility, reduced ability to oxidize fatty acids, and an enhanced dependence on glucose metabolism[6]. Therefore, deciphering the molecular mechanisms underlying cardiac metabolic dysfunction could reveal potential interventional targets to attenuate cardiac degeneration caused by aging.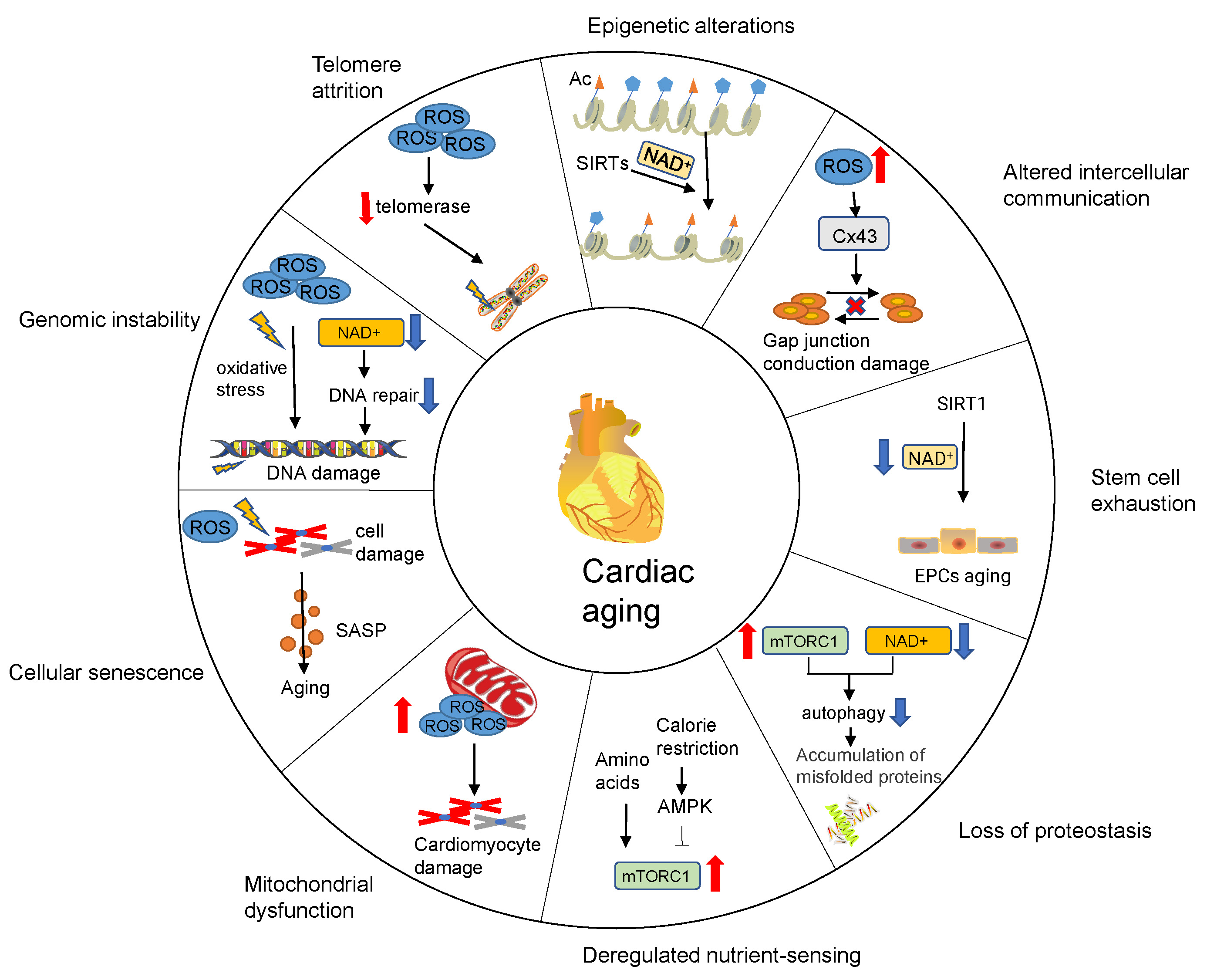 Figure 1. Metabolic pathways and regulators affect the hallmarks of aging in the heart. Cx43: Connexin-43; ROS: reactive oxygen species; SASP: senescence-associated secretory phenotype; EPCs: endothelial progenitor cells; AMPK: AMP-activated protein kinase.
This review focuses on the current understanding of metabolic changes and their effects on myocardial aging and discusses the metabolic signaling pathways and metabolites involved in the myocardial aging process, which may provide a roadmap for cardiac rejuvenation and novel therapies for preventing aging-related heart diseases.
METABOLIC CHANGES IN CARDIAC AGING
During aging, cellular homeostasis and body function are progressively dysregulated, which could be determined by several cellular and molecular hallmarks of aging[7]. These hallmarks include genomic instability, telomere attrition, epigenetic alteration, loss of proteostasis, deregulated nutrient sensing, mitochondrial dysfunction, cellular senescence, stem cell exhaustion, and altered intercellular communication[7]. Metabolic pathways and regulators were proved to affect all the hallmarks of aging in the heart [Figure 1].
THERAPEUTIC POTENTIAL AND CHALLENGES
Metabolic protection against cardiac aging
The main aim of cardiac anti-aging therapy is to find an effective medicine to reverse the features of aged hearts. Several molecules that prevent known cardiac aging features via modulating metabolic regulators have been described [Table 1]. For example, Alginate oligosaccharide (AOS) has been shown to be an effective agent in alleviating cardiac aging[86]. This agent could improve mitochondrial biogenesis and maintain mitochondrial integrity. In addition, mitochondrially targeted vitamin E (MitoVitE) and mitochondrially targeted coenzyme Q (MitoQ) can target mitochondrial dysfunction[87,88]. Cellular senescence, another important feature in cardiac aging, can be reversed by SIRT6[89]. This effect was achieved by deacetylation of key metabolic regulators PCSK9 (proprotein convertase subtilisin/kexin type 9), which modulates the plasma LDL cholesterol level. Although resting heart function is not significantly altered, diastolic and systolic dysfunction exists in aged hearts[90]. A recent study showed that mitochondrially targeted peptide SS-31 (elamipretide) treatment can reverse diastolic dysfunction in the rodent model[91]. SS-31 was proved to reduce mitochondrial ROS and protein oxidation in aged hearts via targeting cardiolipin (CL), indicating alleviation of mitochondrial oxidative stress as a potential mechanism[91]. Similarly, overexpression of the antioxidant enzyme catalase can improve the old mice's heart systolic and diastolic function, and this phenotype is partially mediated by mitochondrial oxidative stress[91,92]. β-hydroxybutyrate (βOHB) treatment could attenuate NLPR3 inflammasome formation and antagonize proinflammatory cytokine-triggered mitochondrial dysfunction in aged mice[93]. This protective effect of βOHB is achieved via activation of CS (citrate synthase) and inhibiting fatty acid uptake. Acetylcarnitine treatment could mitigate age-induced metabolic imbalance via improving cardiac OXPHOS levels[94] [Table 1].
Table 1
Cardiac aging features and metabolic protection
| | | | |
| --- | --- | --- | --- |
| Aging features | Protective molecule | Protective mechanism | Reference |
| Mitochondrial dysfunction | Alginate oligosaccharide | Improving mitochondrial biogenesis and maintaining the mitochondrial integrity | [86] |
| Cellular senescence | SIRT 6 | Deacylation of key metabolic regulators such as PCSK9 which modulates plasma LDL-cholesterol level | [52] |
| Diastolic dysfunction and systolic dysfunction | Mitochondrial targeted peptide SS-31 (Elamipretide) | Normalized the increase in proton leak and reduced mitochondrial ROS in cardiomyocytes via targeting Cardiolipin | [91] |
| Inflammation | β-hydroxybutyrate | Activation of CS (citrate synthase) and inhibition of fatty acid uptake | [93] |
| Oxidative stress | Antioxidant enzyme catalase | Alleviate mitochondrial oxidative stress | [92] |
| Metabolic imbalance | Acetylcarnitine | Improved aging-induced decreases in OXPHOS, complex III and complex IV | [6] |
Metabolites and dietary supplements for pharmacological interventions
NAD+ repletion can delay several hallmarks of aging and suppress the deterioration of age-related diseases[95]. This suggests a significant potential for the treatment of cardiac diseases in the elderly population with supplementation of NAD+ precursors. Indeed, the dietary intake of NAM could reduce cardiac hypertrophy and diastolic dysfunction in aged mice[96] [Figure 5]. However, challenges still exist. Several preclinical studies have confirmed that both NA and NAM treatment can cause side effects such as painful flushing sensations[97-99]. The effect of NMN treatment was tested on old mouse hearts[100], and supplementing this metabolite could restore mitochondria and heart function [Table 2]. However, some potential side effects of NMN have also been proposed, especially concomitant with high-dose administration, such as hepatic pressure and cancer growth[101]. Additionally, NR may be a more suitable NAD+ precursor, since it was not found to be associated with flushing or other severe side effects[102]. Oral administration of NR has been shown to increase NAD+ levels in humans[103]. Moreover, NR can prevent the deterioration of cardiac function and adverse remodeling in a mouse model of dilated cardiomyopathy[104]. However, NR is unstable in blood circulation due to degradation to NAM, thus reducing its availability in the heart after oral supplementation[105]. In addition, the therapeutic value of NR still has certain limitations regarding its production methods, including low yield and the use of expensive or hazardous reagents[106]. In summary, to adapt NR or NMN treatment for therapeutic usage against cardiac aging, it is required to determine oral availability and therapeutic dosage.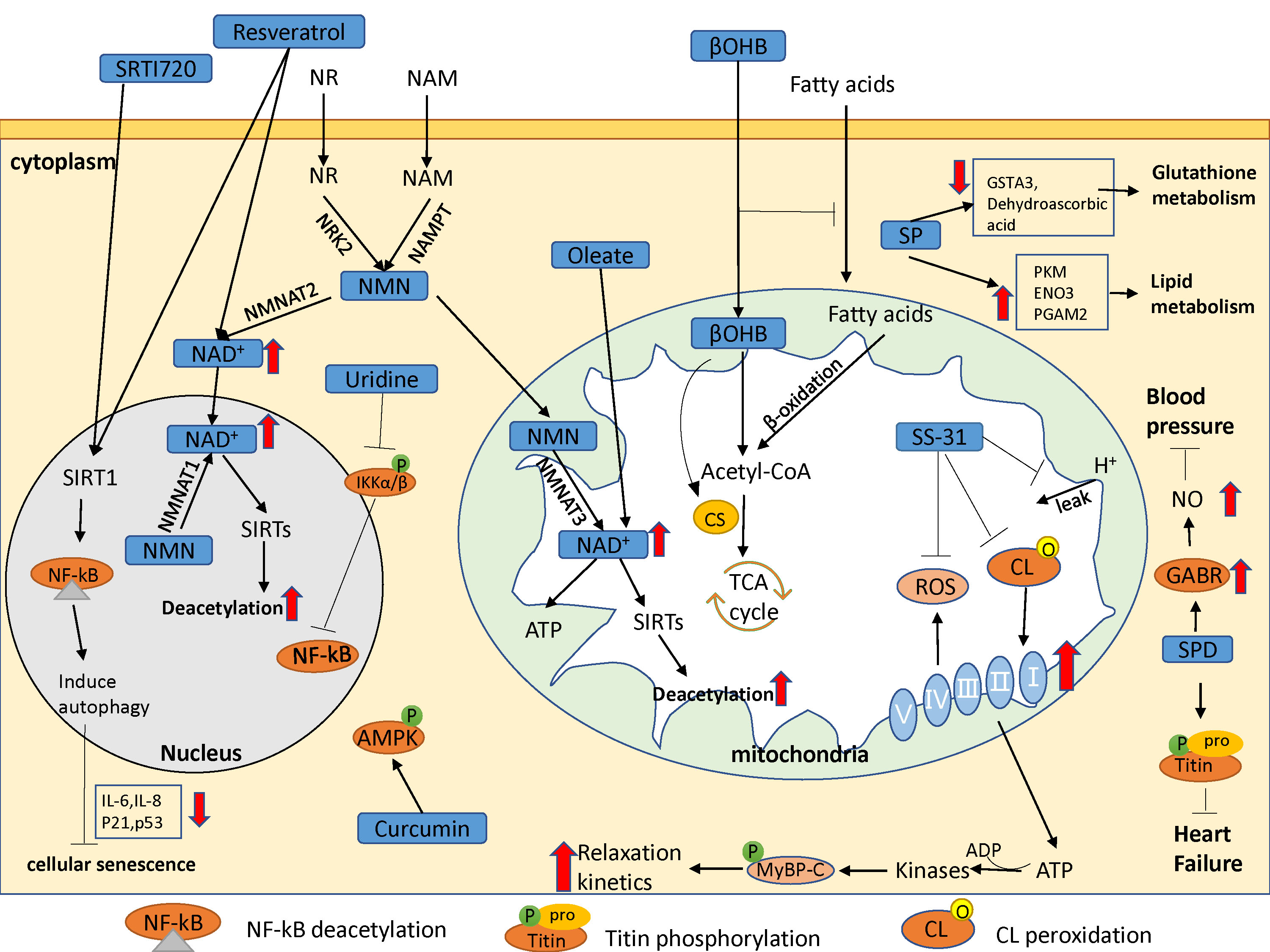 Figure 5. Pharmacological interventions against cardiac aging. NR: Nicotinamide riboside; NAM: nicotinamide; NMN: nicotinamide mononucleotide; NAMPT: nicotinamide phosphoribosyltransferase; AMPK: AMP-activated protein kinase; βOHB: β-hydroxybutyrate; SS-31: elamipretide; CL: cardiolipin; SP: spermine; SPD: spermidine; GABR: global arginine bioavailability ratio; CS: Citrate synthase; ROS: reactive oxygen species.
Table 2
Pharmacological interventions for cardiac rejuvenation
| | | | |
| --- | --- | --- | --- |
| Therapeutic strategies | Target | Effect | Reference |
| NMN | NAD+ | Fully reversed an age-related deficiency in systolic function | [100] |
| β-hydroxybutyrate | Fatty acid uptake | Antagonize proinflammatory cytokine-triggered mitochondrial dysfunction | [93] |
| Spermine | Lipid metabolism and glutathione metabolism pathways | Inhibited age-related myocardial fibrosis and cell apoptosis | [110] |
| Spermidine | Mitochondrial respiration and titin phosphorylation | Reduced blood pressure and delayed the progression to heart failure | [111] |
| Uridine | Metabolic process and inflammation | Improved the function of the heart | [107] |
| Oleate | Increased the levels of NAD+ | Increased anti-aging metabolites | [109] |
| NAD+ | Metabolic process | Improved the function of the heart | [120] |
| Curcumin | Activation of AMPK | Inhibited age-related oxidative changes | [121] |
| Resveratrol | SIRT1 | Ameliorated aging-related metabolic phenotypes | [113] |
| SRT1720 | SIRT1 | Reduced age-related loss of heart function | [114] |
A recent study identified uridine, a pyrimidine nucleoside, as a metabolite that can rejuvenate aged human stem cells and promote the regeneration of various tissues, including the heart[107]. Interestingly, uridine was proved to have an anti-inflammatory effect via modulating inhibitor of kappa B kinaseα/β(IKKα/β) and nuclear factor-kappaB (NF-κB) signaling[108]. This anti-inflammatory effect of uridine may provide a more amiable environment for aging cardiomyocytes. Oleate, an unsaturated fatty acid, could increase anti-aging metabolites such as NAD+ levels in vivo[109]. Polyamines such as spermine (SP) are essential for cell growth, and their levels decline with age. Interestingly, SP treatment could reverse and inhibit age-related myocardial morphology alterations and apoptosis[110]. SP treatment upregulates the expression of pyruvate kinase M1/2 (PKM), enolase 3 (ENO3), and phosphoglycerate mutase 2 (PGAM2), therefore enhancing cardiac lipid metabolism. SP treatment also downregulates glutathione S-transferase alpha 3 (GSTA3) and dehydroascorbic acid production, inhibiting glutathione metabolism and protecting against cardiac aging[110] [Figure 5]. Polyamine spermidine (SPD) also has cardioprotective effects[110,111]. SPD treatment could reduce cardiac hypertrophy and preserve diastolic function in old mice[111]. This protective effect was achieved by improving the global arginine bioavailability ratio (GABR), which favors the production of nitric oxide (NO) and subsequently decreases systemic blood pressure[111]. SPD treatment can also increase titin phosphorylation and improve the mechanical properties of cardiomyocytes[111]. In summary, these cardioprotective metabolites could serve as potential clinical therapeutics that target cardiac aging.
Dietary supplements offer a convenient resource for restoring cardiac youthfulness in the aging population [Table 2]. Among them, several naturally occurring molecules targeting longevity pathways could improve mitochondrial physiology. For example, resveratrol has been proven to enhance mitochondrial biogenesis in aging mice[112]. Mechanically, resveratrol activates the cyclic adenosine monophosphate (cAMP)/exchange protein directly activated by the cAMP 1 (Epac1)/AMPK pathway, which subsequently increases the NAD+ level and the activity of SIRT1[113]. SRT1720, another compound activating SIRT1, has health and lifespan benefits in adult mice[114]. Thymoquinone and curcumin effectively suppressed the aging-associated oxidative alterations in mice hearts[115]. Curcumin could also improve cardiac angiogenesis and promote heart performance in senescent rats[116]. Curcumin could activate AMPK signaling, thereby promoting autophagy and alleviating cardiac apoptosis[117].
Interestingly, a combination of different anti-aging agents may achieve better cardiac rejuvenation. Two different mitochondrially targeted drugs, SS-31 and NMN, were tested on old mouse hearts[100]. Combining them resulted in a synergistic effect on old hearts that best recapitulated the young state. Moreover, a synergistic effect of leucine-resveratrol combinations on glucose homeostasis and insulin sensitivity was observed in patients with prediabetes[118,119]. These cardiac anti-aging strategies are gaining popularity, and optimizing the drug combination or targeting will undoubtedly facilitate the development of anti-aging therapies. Moreover, further mechanistic studies are needed for drug safety and efficacy assessment of cardiac anti-aging strategies.
CONCLUSIONS
CVDs associated with aging are the leading global healthcare burden in the 21st century. Research focusing on metabolic dysfunction in the aging process might identify novel specific agents. Interestingly, the driving factors of cardiac aging influence each other; thus, strategies targeting multiple driving factors may have a synergistic effect. This review examines metabolic components involved in cardiac aging and how they influence the main aging features. The modulation of these components and correlative pathways could improve human cardiac health and prevent major age-related CVDs. Maintaining healthy mitochondria and metabolic regulation is essential to long-term cardiac health. This review also summarizes different approaches to reversing metabolic changes in cardiac aging. It is challenging to only focus on specific cardiac pathologies because of the multi-organ involvement in age-associated CVDs. Therefore, new agents targeting communications between multiple organs could pave the way to understanding the complex nature of CVDs in the aged population. In conclusion, a thorough understanding of the role of metabolic regulation in human cardiac aging will be needed to combat age-related CVDs.
DECLARATIONS
Authors' contributions
Participated in research design: Xiao J, Vulugundam G
Performed data analysis: Zhang X, Hu M, Lu Y
Wrote or contributed to the writing of the manuscript: Liu C, Gokulnath P
Availability of data and materials
Not applicable.
Financial support and sponsorship
This work was supported by the grants from National Key Research and Development Project (2018YFE0113500 to Xiao J), National Natural Science Foundation of China (82020108002 and 81911540486 to Xiao J), Innovation Program of Shanghai Municipal Education Commission (2017-01-07-00-09-E00042 to Xiao J), the grant from Science and Technology Commission of Shanghai Municipality (20DZ2255400 and 21XD1421300 to Xiao J), the "Dawn" Program of Shanghai Education Commission (19SG34 to Xiao J), and National Natural Science Foundation of China (82000287 to Liu C).
Conflicts of interest
All authors declared that there are no conflicts of interest.
Ethical approval and consent to participate
Not applicable.
Consent for publication
Not applicable.
Copyright
© The Author(s) 2022.
Cite This Article
OAE Style
Liu C, Zhang X, Hu M, Lu Y, Gokulnath P, Vulugundam G, Xiao J. Metabolic targets in cardiac aging and rejuvenation. J Cardiovasc Aging 2022;2:46. http://dx.doi.org/10.20517/jca.2022.31
AMA Style
Liu C, Zhang X, Hu M, Lu Y, Gokulnath P, Vulugundam G, Xiao J. Metabolic targets in cardiac aging and rejuvenation. The Journal of Cardiovascular Aging. 2022; 2(4):46. http://dx.doi.org/10.20517/jca.2022.31
Chicago/Turabian Style
Liu, Chang, Xiao Zhang, Meiyu Hu, Yi Lu, Priyanka Gokulnath, Gururaja Vulugundam, Junjie Xiao. 2022. "Metabolic targets in cardiac aging and rejuvenation" The Journal of Cardiovascular Aging. 2, no.4: 46. http://dx.doi.org/10.20517/jca.2022.31
ACS Style
Liu, C.; Zhang X.; Hu M.; Lu Y.; Gokulnath P.; Vulugundam G.; Xiao J. Metabolic targets in cardiac aging and rejuvenation. J. Cardiovasc. Aging. 2022, 2, 46. http://dx.doi.org/10.20517/jca.2022.31