Metabolic protection against cardiac aging
The main aim of cardiac anti-aging therapy is to find an effective medicine to reverse the features of aged hearts. Several molecules that prevent known cardiac aging features via modulating metabolic regulators have been described [Table 1]. For example, Alginate oligosaccharide (AOS) has been shown to be an effective agent in alleviating cardiac aging[86]. This agent could improve mitochondrial biogenesis and maintain mitochondrial integrity. In addition, mitochondrially targeted vitamin E (MitoVitE) and mitochondrially targeted coenzyme Q (MitoQ) can target mitochondrial dysfunction[87,88]. Cellular senescence, another important feature in cardiac aging, can be reversed by SIRT6[89]. This effect was achieved by deacetylation of key metabolic regulators PCSK9 (proprotein convertase subtilisin/kexin type 9), which modulates the plasma LDL cholesterol level. Although resting heart function is not significantly altered, diastolic and systolic dysfunction exists in aged hearts[90]. A recent study showed that mitochondrially targeted peptide SS-31 (elamipretide) treatment can reverse diastolic dysfunction in the rodent model[91]. SS-31 was proved to reduce mitochondrial ROS and protein oxidation in aged hearts via targeting cardiolipin (CL), indicating alleviation of mitochondrial oxidative stress as a potential mechanism[91]. Similarly, overexpression of the antioxidant enzyme catalase can improve the old mice's heart systolic and diastolic function, and this phenotype is partially mediated by mitochondrial oxidative stress[91,92]. β-hydroxybutyrate (βOHB) treatment could attenuate NLPR3 inflammasome formation and antagonize proinflammatory cytokine-triggered mitochondrial dysfunction in aged mice[93]. This protective effect of βOHB is achieved via activation of CS (citrate synthase) and inhibiting fatty acid uptake. Acetylcarnitine treatment could mitigate age-induced metabolic imbalance via improving cardiac OXPHOS levels[94] [Table 1].
Table 1
Cardiac aging features and metabolic protection
| | | | |
| --- | --- | --- | --- |
| Aging features | Protective molecule | Protective mechanism | Reference |
| Mitochondrial dysfunction | Alginate oligosaccharide | Improving mitochondrial biogenesis and maintaining the mitochondrial integrity | [86] |
| Cellular senescence | SIRT 6 | Deacylation of key metabolic regulators such as PCSK9 which modulates plasma LDL-cholesterol level | [52] |
| Diastolic dysfunction and systolic dysfunction | Mitochondrial targeted peptide SS-31 (Elamipretide) | Normalized the increase in proton leak and reduced mitochondrial ROS in cardiomyocytes via targeting Cardiolipin | [91] |
| Inflammation | β-hydroxybutyrate | Activation of CS (citrate synthase) and inhibition of fatty acid uptake | [93] |
| Oxidative stress | Antioxidant enzyme catalase | Alleviate mitochondrial oxidative stress | [92] |
| Metabolic imbalance | Acetylcarnitine | Improved aging-induced decreases in OXPHOS, complex III and complex IV | [6] |
Metabolites and dietary supplements for pharmacological interventions
NAD+ repletion can delay several hallmarks of aging and suppress the deterioration of age-related diseases[95]. This suggests a significant potential for the treatment of cardiac diseases in the elderly population with supplementation of NAD+ precursors. Indeed, the dietary intake of NAM could reduce cardiac hypertrophy and diastolic dysfunction in aged mice[96] [Figure 5]. However, challenges still exist. Several preclinical studies have confirmed that both NA and NAM treatment can cause side effects such as painful flushing sensations[97-99]. The effect of NMN treatment was tested on old mouse hearts[100], and supplementing this metabolite could restore mitochondria and heart function [Table 2]. However, some potential side effects of NMN have also been proposed, especially concomitant with high-dose administration, such as hepatic pressure and cancer growth[101]. Additionally, NR may be a more suitable NAD+ precursor, since it was not found to be associated with flushing or other severe side effects[102]. Oral administration of NR has been shown to increase NAD+ levels in humans[103]. Moreover, NR can prevent the deterioration of cardiac function and adverse remodeling in a mouse model of dilated cardiomyopathy[104]. However, NR is unstable in blood circulation due to degradation to NAM, thus reducing its availability in the heart after oral supplementation[105]. In addition, the therapeutic value of NR still has certain limitations regarding its production methods, including low yield and the use of expensive or hazardous reagents[106]. In summary, to adapt NR or NMN treatment for therapeutic usage against cardiac aging, it is required to determine oral availability and therapeutic dosage.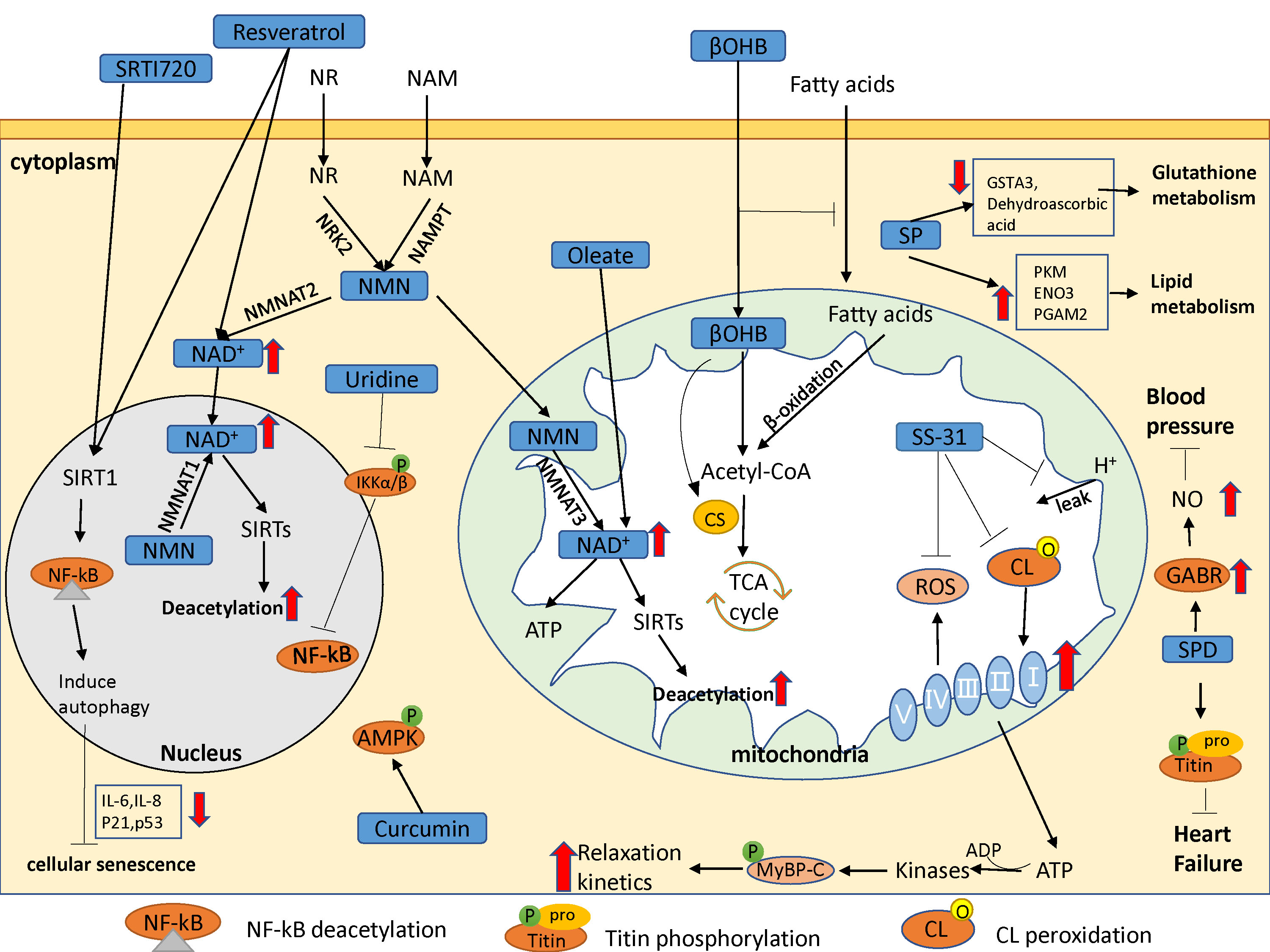 Figure 5. Pharmacological interventions against cardiac aging. NR: Nicotinamide riboside; NAM: nicotinamide; NMN: nicotinamide mononucleotide; NAMPT: nicotinamide phosphoribosyltransferase; AMPK: AMP-activated protein kinase; βOHB: β-hydroxybutyrate; SS-31: elamipretide; CL: cardiolipin; SP: spermine; SPD: spermidine; GABR: global arginine bioavailability ratio; CS: Citrate synthase; ROS: reactive oxygen species.
Table 2
Pharmacological interventions for cardiac rejuvenation
| | | | |
| --- | --- | --- | --- |
| Therapeutic strategies | Target | Effect | Reference |
| NMN | NAD+ | Fully reversed an age-related deficiency in systolic function | [100] |
| β-hydroxybutyrate | Fatty acid uptake | Antagonize proinflammatory cytokine-triggered mitochondrial dysfunction | [93] |
| Spermine | Lipid metabolism and glutathione metabolism pathways | Inhibited age-related myocardial fibrosis and cell apoptosis | [110] |
| Spermidine | Mitochondrial respiration and titin phosphorylation | Reduced blood pressure and delayed the progression to heart failure | [111] |
| Uridine | Metabolic process and inflammation | Improved the function of the heart | [107] |
| Oleate | Increased the levels of NAD+ | Increased anti-aging metabolites | [109] |
| NAD+ | Metabolic process | Improved the function of the heart | [120] |
| Curcumin | Activation of AMPK | Inhibited age-related oxidative changes | [121] |
| Resveratrol | SIRT1 | Ameliorated aging-related metabolic phenotypes | [113] |
| SRT1720 | SIRT1 | Reduced age-related loss of heart function | [114] |
A recent study identified uridine, a pyrimidine nucleoside, as a metabolite that can rejuvenate aged human stem cells and promote the regeneration of various tissues, including the heart[107]. Interestingly, uridine was proved to have an anti-inflammatory effect via modulating inhibitor of kappa B kinaseα/β(IKKα/β) and nuclear factor-kappaB (NF-κB) signaling[108]. This anti-inflammatory effect of uridine may provide a more amiable environment for aging cardiomyocytes. Oleate, an unsaturated fatty acid, could increase anti-aging metabolites such as NAD+ levels in vivo[109]. Polyamines such as spermine (SP) are essential for cell growth, and their levels decline with age. Interestingly, SP treatment could reverse and inhibit age-related myocardial morphology alterations and apoptosis[110]. SP treatment upregulates the expression of pyruvate kinase M1/2 (PKM), enolase 3 (ENO3), and phosphoglycerate mutase 2 (PGAM2), therefore enhancing cardiac lipid metabolism. SP treatment also downregulates glutathione S-transferase alpha 3 (GSTA3) and dehydroascorbic acid production, inhibiting glutathione metabolism and protecting against cardiac aging[110] [Figure 5]. Polyamine spermidine (SPD) also has cardioprotective effects[110,111]. SPD treatment could reduce cardiac hypertrophy and preserve diastolic function in old mice[111]. This protective effect was achieved by improving the global arginine bioavailability ratio (GABR), which favors the production of nitric oxide (NO) and subsequently decreases systemic blood pressure[111]. SPD treatment can also increase titin phosphorylation and improve the mechanical properties of cardiomyocytes[111]. In summary, these cardioprotective metabolites could serve as potential clinical therapeutics that target cardiac aging.
Dietary supplements offer a convenient resource for restoring cardiac youthfulness in the aging population [Table 2]. Among them, several naturally occurring molecules targeting longevity pathways could improve mitochondrial physiology. For example, resveratrol has been proven to enhance mitochondrial biogenesis in aging mice[112]. Mechanically, resveratrol activates the cyclic adenosine monophosphate (cAMP)/exchange protein directly activated by the cAMP 1 (Epac1)/AMPK pathway, which subsequently increases the NAD+ level and the activity of SIRT1[113]. SRT1720, another compound activating SIRT1, has health and lifespan benefits in adult mice[114]. Thymoquinone and curcumin effectively suppressed the aging-associated oxidative alterations in mice hearts[115]. Curcumin could also improve cardiac angiogenesis and promote heart performance in senescent rats[116]. Curcumin could activate AMPK signaling, thereby promoting autophagy and alleviating cardiac apoptosis[117].
Interestingly, a combination of different anti-aging agents may achieve better cardiac rejuvenation. Two different mitochondrially targeted drugs, SS-31 and NMN, were tested on old mouse hearts[100]. Combining them resulted in a synergistic effect on old hearts that best recapitulated the young state. Moreover, a synergistic effect of leucine-resveratrol combinations on glucose homeostasis and insulin sensitivity was observed in patients with prediabetes[118,119]. These cardiac anti-aging strategies are gaining popularity, and optimizing the drug combination or targeting will undoubtedly facilitate the development of anti-aging therapies. Moreover, further mechanistic studies are needed for drug safety and efficacy assessment of cardiac anti-aging strategies.